The WiSentry - Wireless Access Point Detection System is a software only solution that quickly and easily deploys to your WIRED network infrastructure and protects the most valuable corporate asset - the WIRED NETWORK - from unauthorized AP intrusions.

WiSentry eliminates the ineffective and inefficient practice of walking around a building/campus continuously scanning the 802.11 radio spectrum, searching for unregistered AP hardware.

WiSentry continually enforces the corporate 'No Wireless' policies and reports on any variance from authorized deployments in real time.

WiSentry provides IT operations with a real-time display of all AP's that are attached to the corporate WIRED networks...whether they are authorized or rogue.

Unlike other solutions that are wireless-based, WiSentry is installed on the wired side of the corporate LAN, and unsecured Wireless AP's are detected immediately, allowing network administrators to identify and remove these devices before network security is compromised.

WiSentry is a scalable architecture that offers 100% coverage of your network. No 802.11 analysis or scanning hardware is required to detect Rogue AP's.

Features
24 x 7 Rogue AP detection from the WIRED networks
NEW! VLAN Mode - optimized to VLAN topologies
Detects both low end and high end access points, such as Linksys, D-Link, Microsoft, SMS, Cisco and Symbol
Software only solution (runs on standard PC hardware)
Centralized monitoring of AP's from multiple locations
Easy to read, color-coded displays showing detailed information such as AP vendor name, model, port the access point is connected to, percentage of probability the device is an access point, Media Access Control (MAC) address, IP address, and timestamp of last network activity from the device
User-definable alerts and reporting

Benefits
Supports the detection of Rogue Ap'S for non-wireless and wireless networks without patrolling the premises with a wireless handheld 'sniffer' device
No need to deploy and manage expensive/complex wireless-based hardware to detect AP's
Protects the corporate network 24x7 from the inside against unauthorized AP's that can bypass all security policies/provisions
Complements existing wireless security standards, such as WEP, 802.1x and WPA, to provide another layer of defense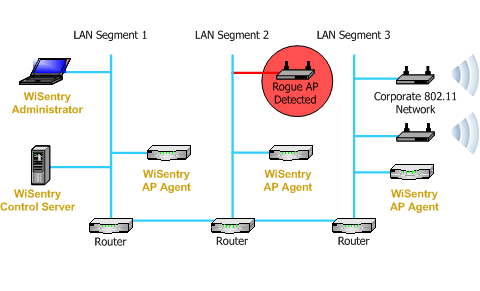 WiSentry - Wireless Access Point Detection System Core Components
WiSentry Control Server
The Control Server identifies and stores information on Wireless AP's. It manages all WiSentry Agents that monitor the wired LAN for Rogue AP's

WiSentry Agent
Located on the wired side of the corporate LAN, Agents monitor and probe the network to identify and profile Wireless AP's. Agents are 'software sensors' and operate as Windows Services.

WiSentry Administrator Console
The Administrator Console provides a centralized view of all Wireless AP activity on the network in real time. The Console provides information such as date and time a Wireless AP is detected; displays the MAC and IP address of the device; and provides vendor and model information of the identified AP. In addition, you will be able to determine the specific location of the AP, allowing you to quickly react to disable the offending device.

Download Product Profile (right-click, Save As...best for printing)